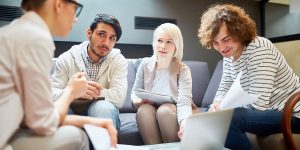 The financial decisions we make affect our lifestyle, our future, and our family. When we buy a house, get married, make investments, or open a business, the choices we make will impact our finances and security.
Thus, it is important to take certain measures to guarantee that we have protection from the risks we face by having the right life, business, mortgage, critical illness, or disability insurance.
Financial security advisors provide professional advice to protect your finances and ensure that no matter what happens, your loved ones will be taken care of.
In the Belle Province, financial security advisors are authorized to sell and distribute insurance products and other financial products such as pension plans. They are registered with the Autorité des marchés financiers (AMF) which is the governing body that regulates the financial market in Quebec and assists consumers regarding financial products and services.
In short, financial security advisors can help you plan the many different stages in your life to establish a financial plan that secures your family's future. Just fill out our online form and receive a free quote without obligation!
6 ways a Financial Security Advisor or Insurance Broker can save you a lot of money
We all want to save money from expenses and put more money in the bank! A financial security advisor or insurance broker in Laval can help you with this.
#1: Save from mortgage insurance when buying a house in Laval. 
If you plan to buy a house, your lender will try to sell you their mortgage insurance policy. Don't fall into this trap because a bank mortgage insurance is more expensive and only protects your lender.
Speak to a financial security advisor about mortgage life insurance. He can explain to you the benefits of buying life insurance to protect your mortgage in case you die. If you want to get the best price, you can also find an insurance broker to compare the prices of available products in the market and get the best deal.
If you don't qualify for term life insurance because of health conditions, a financial security advisor can also offer you mortgage protection insurance. Although more expensive than term life insurance, it is guaranteed issue and requires no medical exam. However, it only covers your monthly mortgage payments if you die suddenly.
You can save as much as $1,000 in premiums when you buy term life insurance for your mortgage from a financial security advisor instead of mortgage insurance from a bank.
#2:

Save with a homeowner's insurance when you buy with a financial security advisor or insurance broker.
If you already own a home, it is important to have a homeowner's insurance policy to protect your investment from risk or damage. A financial security advisor can also offer you the best home insurance products and look for the best price. They can also advise you how to reduce the cost of your premiums so you can save more money.
And because your home insurance will cover the cost of repairs and replacements included in your policy, you save money in the long-run.
Home insurance policies differ in terms, price, and coverage. Simplify your life by referring to an expert for your best options for home insurance.
#3: Save money with group life insurance for your employees.
Are you looking for group life insurance for your employees? There are financial security advisors that specialize in group insurance and can offer you the right group insurance for your business. All employees covered by group insurance pay lower premiums for their insurance needs – life, health, or critical illness.
#4: Save more money for your retirement fund.
It is very difficult to reach the amount of savings targeted for retirement. Not everyone is good with numbers. This is the specialty of a financial security advisor and he can point you to measures such as maximizing government incentives like the Quebec Education Savings Incentive, RESPs, RRSP, TFSA, Quebec Stock Savings Plan, life insurance, pension plans, etc. After assessing your portfolio, he will identify other savings opportunities you can tap to save for retirement. With a solid plan, you can reach your financial goals.
#5: Save money on taxes.
Most people want to know how they can reduce their taxes. A financial security advisor in Laval can assess your file and educate you on how to save on taxes. For example, if you and your spouse receive qualified pension income, a strategy called income-splitting can potentially put more money in your pocket. He can also ask if you have contribute to a Spousal Registered Retirement Savings Plan (RRSP) and study ways to minimize taxes on your investments.
#6: Save money when you buy auto, life, or business insurance.
Before you buy insurance, let an insurance broker compare multiple insurance companies and prices for you, free of charge. He will offer you the policy with the best value and lowest price that is tailored to your needs. You save twice – with a lower insurance cost and no fees paid for the broker's services because the insurance companies compensate them with commissions.
Financial Security Advisors prepare you for Life Events with Life Insurance
Below are life stages where you will need insurance protection to prepare your finances for important milestones.
Get help from a financial security advisor to find the right insurance protection for your needs or an insurance broker who can compare different insurance products and prices for you!
Singlehood
Being single can be a blessing. There's joy in worrying only about yourself. But don't think that you don't need to plan your financial security because you have no dependents. Keep in mind that you won't be young forever. You need to plan and save for retirement and protect your finances in case of disability.
This is the best time to buy the right life insurance that can protect you throughout the stages in your life. A financial security advisor can present you with savings and retirement options, including whole life insurance, universal insurance, critical illness insurance, or disability insurance.
The younger you are when buying life insurance, the lower the premiums you need to pay so you save a lot of money in the long-term.
Marriage or Living Together
When one gets married or finds a life partner, it becomes important to consider the spouse or partner in financial planning. If you are the major breadwinner, it becomes even more important to ensure that should something bad happen, your spouse will not be burdened by financial difficulties.
If you already have life insurance, a financial advisor can help you determine if you need to increase the insurance amount or augment your life insurance with other options.
Once kids arrive, you will need to reassess your life insurance to make sure it is sufficient to cover educational expenses, mortgage payments, etc.
Business
A growing business will increase the risk for liability, loss, or damage. A financial security advisor can help you determine the best business insurance you need to protect your finances.
Retirement
The best time to start planning your retirement is when you have established a career. You need to utilize government savings plans (Quebec Pension Plan, RRSP, etc.), investment opportunities, insurance, etc.
A financial security advisor is in the best position to guide you on how you can use insurance to plan for your retirement.
Our partners, bilingual financial security advisors and insurance brokers in Laval, will identify the best insurance solutions to protect you and your loved ones.
Fill out the form on this page and get connected to qualified insurance professionals in your area to assist you in planning your financial security! Don't worry; this comparison service is FREE and NO COMMITMENT!
How to check that a financial security advisor is certified?
To be able to offer financial products like insurance in Laval, the individual must have the certification to practice from the AMF.  The following steps need to be followed to obtain a certificate for the insurance of persons:
Satisfy the training requirements offered by an AMF certified provider
Pass mandatory examinations.
Pass a supervised probationary period
Apply for certification
You can verify if a financial security advisor is registered with the AMF.
Why do you need life insurance in Laval?
Life insurance will pay the insured amount to chosen beneficiaries when the insured dies. Beneficiaries are designated in an insurance contract.
Money from a life insurance policy can help loved ones to live in the lifestyle they are accustomed to. Any amount in excess can also be used to pay for:
Taxes
Funeral expenses
Credit card debts, mortgage, personal loans, etc.
Consider the following scenario:
Timothy from Chomedey is 35 years old, married, and has 2 young children. He has a mortgage of $313,900, credit card debts amounting to $7,000, and a car loan with a balance of $17,000.  Their combined annual income is $87,000 a year.
If Timothy should die, will his spouse be able to pay off the mortgage and send the 2 children to college in the future?
With a 20-term life insurance policy, Tim can plan to have the debts paid from his policy and leave a substantial legacy to his family to cover educational expenses and living expenses if he should die unexpectedly. He can also obtain coverage for critical illness and disability to protect his income and preserve his family's lifestyle if he gets diagnosed.
A financial security advisor will calculate how much insurance he needs to provide for his loved ones after death. To illustrate, it may cost as little as $26 a month for a $500k coverage to have peace of mind about his family's well-being.
The above scenario is common in Quebec and the benefits of life insurance can be tailored to suit an individual's unique needs. Further, certain permanent life insurance policies provide living benefits so you don't only benefit when you die but get to enjoy cash benefits while you are still alive.
You can double up your life insurance by buying insurance from multiple insurers. Your beneficiaries will receive insurance benefits from these policies.
Don't neglect the importance of life insurance in your wellness and financial plan. Get expert advice from a qualified financial security advisor in Laval without obligation. You will receive a competitive quote, free of charge!
Insurance Protection against Critical Illness
If you get stricken by cancer, stroke, heart attack, or other dreaded diseases, would your disability income or savings be enough to cover medical bills and monthly living expenses? Your spouse may need to take time off work to care for you and the home. Will your savings be enough for both of you to stop working?
Critical Illness insurance can cover your expenses
Critical illness insurance is essential and has an impact on your family's quality of life.  Some of the benefits include:
Lump-sum benefit after a waiting period when diagnosed with a life-threatening disease
Income replacement
Pay debts or bills
Manage medical expenses
Depending on the insurer, below are illnesses covered by this type of insurance:
Stroke
Alzheimer's disease
Artery bypass surgery
Cancer
Heart attack
Coronary artery bypass
Major organ failure
Dismemberment
Heart valve replacement
Coma
Parkinson's Disease
And more
While the policy is active, you can file a claim for any covered condition but payments start after a waiting period, usually 30 days.  Although Quebecers benefit from a public health program, it does not cover many costs that arise from a critical illness diagnosis.  Critical illness can also be combined with disability insurance for comprehensive protection.
Speak to a qualified financial security advisor about obtaining critical illness insurance coverage using the short online form on this page.
Our service is free and no commitment so you have nothing to worry about!
How life insurance can help with retirement
Most Canadians think of life insurance in relation to death benefits for relatives after death. However, life insurance can also be used for living benefits that could be useful in retirement.
There are life insurance policies that can be used to earn extra income. Here are ways that permanent life insurance can be a supplemental income stream.
Growing cash value with whole life insurance
Majority of Quebecers have term life insurance which is in effect for a specific time. Although it is the least expensive life insurance, it only pays death benefits. Further, the cost of premiums rise with every renewal.
In contrast, whole life insurance gives you protection for life.  While it is more expensive than term life, this type of insurance accumulates cash value which you can borrow cash from later on.  It can also earn interest or dividends, depending on the policy.
If you buy a participating policy for whole life insurance, you become entitled to dividends from surplus earnings of the life insurance company and are generally paid out every year.
With whole life insurance, your beneficiaries get a guaranteed cash benefit at your death but you also have living benefits which can be used for investing or for your life projects.
Investment earnings with universal life insurance
Universal life insurance is also a permanent life insurance type but has an investment component.  It also earns cash value depending on the amount of interest the policy earns as premiums are paid. Any accrued interest can also be used to pay for premiums.
Universal life insurance appeals to many retirees because on top of cash value, a portion of the premiums are invested.  Thus, the policy holder benefits from additional revenues which are determined by the performance of the investment vehicles chosen.  As you can see, individuals who buy universal life insurance must have knowledge in investments and the financial market.
Permanent Life Insurance Can Be Converted to Annuities
If your universal or whole life insurance policy already has a substantial amount of cash value, it can be converted to an annuity to create a regular income stream.
Annuities are contracts purchased from a life insurance company.  They are generally funded with a lump sum.  The life insurance company will pay a fixed amount. If it is a lifetime annuity, it makes payments until your death and could continue to make payments to a spouse.
You may now have realized that life insurance is a very important factor in planning your retirement. The best thing to do is to find a reliable financial security advisor or insurance broker in Laval to assess your financial situation and give you sound advice.
Get connected to a reputable financial security advisor or life insurance broker wherever you are in Laval at no cost or obligation.
Fill out our free online form, it takes less than 2 minutes and you can save time and money!
5 Mistakes with Retirement Savings you can avoid with a Financial Security Advisor
We all know that it is important to save for retirement but it is easier said than done. It is quite easy to make mistakes and fail to realize goals because of wrong strategies.
Finance specialists like financial security advisors often see the following mistakes and help their clients with strategies that help them to bounce back.
Lack of a solid financial plan.
A retirement plan contains your long-term goals and identifies challenges that must be overcome.  You need to have an estimate of future expenses and income and ways to save money.  A financial security advisor in Laval can help you create a solid financial plan to achieve your objectives using a variety of financial tools, including life insurance, government savings, and pension plans.
Failing to plan for taxes.
Don't get too excited when you see the balance of your savings. Keep in mind that some of this amount will go to taxes.  Life insurance can take care of taxes in case of death of the insured. A financial security advisor can provide you with the best options to save enough for retirement.
Spending savings before retirement.
You get tempted when you see your growing savings and pull out money from participating life insurance policies or savings without a good reason.  Keep in mind that spending your savings before retirement could have a negative effect on your retirement goals.
Investing unwisely or failing to grow your money.
Your retirement funds could be affected by inflation and life expectancy. Rising costs and a longer life expectancy for Canadians result in many retirees outliving their savings. It is advisable to speak with a financial security advisor on how to grow your funds to last you during retirement.
Not saving enough until retirement.
A lot of people don't cut back on spending during the last few years of employment and fail to save enough for retirement. Cutting down on expenses can be hard to do but with discipline, you can train yourself to spend less before you retire. This can have a big impact on your retirement funds. A financial security advisor can provide you with valuable advice regarding how to save for retirement.
Consulting a financial security advisor is an effective way to plan your retirement so you can be worry-free and happy during the golden years with money to spend on a comfortable life.
Our network consists of English-speaking financial security advisors and brokers in Laval who can help you with your financial planning!  Fill out our short online form to get connected to a reliable financial security advisor in your area, free of charge!
Protect your mortgage with Mortgage Life Insurance
If you applying for a mortgage to buy a house, your bank will offer mortgage insurance. This type of insurance is designed to protect the lender from risk if you default on your loan.
With a mortgage insurance from a bank, your insurance policy benefits are paid to your lender at your death.  The value of the policy diminishes as your mortgage balance goes down.  However, your premiums remain the same until your loan is fully paid.
This type of mortgage insurance does not pay any benefits to your beneficiaries in case you die. Thus, only your lender benefits from the policy.
Did you know that you have a better option to protect your mortgage by buying mortgage life insurance from a life insurance company? Mortgage life insurance is more advantageous because:
The benefits are paid to your beneficiaries
The policy covers debts including your mortgage
The insured amount remains the same even when your mortgage is fully paid
You don't need to get another insurance if you move your loan to a new lender
Premiums are cheaper because they are based on age, credit history, health status, and other criteria
Mortgage life insurance protects not only your mortgage but your family, too! Find out how to avoid mortgage insurance from a bank and the benefits of life insurance for your mortgage loan.
Receive professional advice from experienced and qualified financial security advisors or insurance brokers in your area! Just fill out a short online form and get a competitive quote from a reputable insurer.
Our partner financial security advisors and insurance brokers serve all of Laval
Our partners are financial security advisors and independent insurance brokers serving all of Laval for all types of insurance needs!
What sets them apart from other professionals is their experience, quality of service, reputation, and track record. Our partners were carefully screened to ensure total customer satisfaction with our comparison service.
| | | | | | | |
| --- | --- | --- | --- | --- | --- | --- |
| Auteuil | Duvernay | Iles-Laval | Laval-Ouest | Pont-Viau | Saint-Rose | Saint-Vincent-de-Paul |
| Chomedey | Faverville | Laval-des-Rapides | Laval-sur-le-Lac | Saint-Dorothee | Saint-Francois | Vimont |
Regardless of where you are, you can easily connect with our partners using a short online form on this page to receive a free quote for your life insurance needs. You save time and money from searching websites for the best life insurance policy and lowest price.
If you want to save money, take 2 minutes of your time today to request for your free quote from one of our partners! You are guaranteed to receive a HIGH-QUALITY quote that is tailored to your preferences and budget.
What do you need: a financial security advisor or insurance broker in Laval?
Many people may not know the difference between a financial security advisor and an insurance broker.  Both professionals are in our vast network and they can help you meet your financial goals.
Both professionals will assess your financial situation, listen to what you need, determine your goals, and offer you with the best financial products and services to meet your goals.
Many financial security advisors work with a specific insurance company and offer a multitude of insurance solutions offered by their company.
An independent insurance broker, on the other hand, works with a variety of insurers and can offer you different insurance products from multiple insurers. He will find the best price for your insurance coverage so you can save on insurance.
Whichever professional you choose, you don't pay anything for their service! They are compensated by the insurance company they represent or from where you decide to buy your insurance.
We have made it easier for you to find reliable insurance professionals in Laval that you can count on!  Take advantage of this convenient comparison service and receive a high-quality quote tailored to your needs.
Request for your free quote today using the short online form below! One of our partners will contact you with a competitive and no-obligation quote without delay.