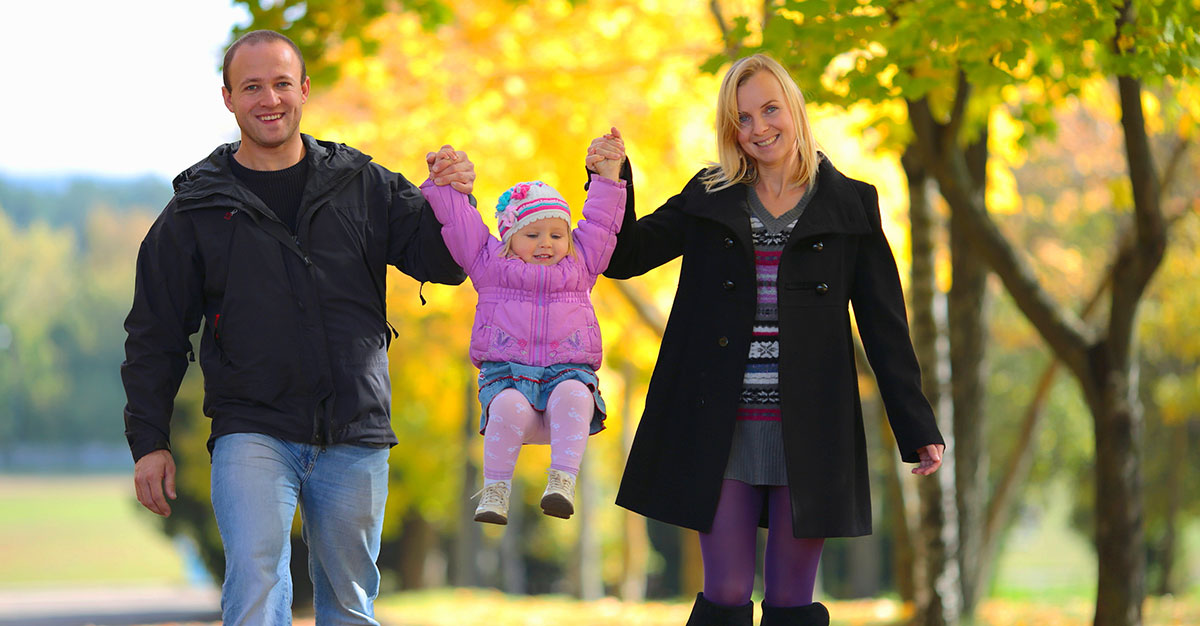 Financial experts say that every family must have a life insurance plan. Unfortunately, many of us just don't want to think about it. There are just too many expenses to deal with and nicer things to buy than life insurance.
Life insurance premiums can be expensive for most people. Given the fact that we don't like to think about the end, it's just much easier to postpone it.
Unfortunately, the longer we wait, the riskier it gets.  We don't know what happens tomorrow, and tomorrow could be too late.
If you have a family that you want to secure financially in case something should happen to you, the time to buy family life insurance is today.
With a free life insurance quote, you can see how much your life insurance will cost.
A Better Future for the Entire Family with Life Insurance
What happens if you are not there to provide for your family? It's a scary thought. But with family life insurance, you can secure the future of your loved ones.
Rather than having separate policies for yourself and your spouse, you can get cover for all members of your immediate family under one plan.
Why insure each member of the family?
The most important member of the family that needs to be insured is the breadwinner. If that person is gone, the life insurance benefits will be a tremendous help to the family.
What about the spouse that stays home? Insurance for the homemaker is just as important because he or she could be working part-time and providing for childcare, taking care of the home and the family. If this person passes away, the family will need extra help to manage, and extra help means more expenses.
The children are no less important. You can also get them covered at a young age to make sure they have insurance in place for the future.  They can convert their cover when they become adults to permanent life insurance even if they develop health issues later.
Family life insurance makes sure every member of the family is covered so that the future becomes more secure.
Options for Family Life Insurance at Cheaper Premiums
When buying life insurance, it is important to know all your options so you can select the best one for your needs.
If you or your spouse is already covered by a term life insurance or a permanent life insurance policy, you can simply obtain a rider to protect the rest of your family.
A term rider can offer protection up to age 85 for term life for 10 or 20 years. The premiums can be level for 10 or 20 years based on the cover you select.  The rider is an option for the insured individual.  Term life insurance can also be converted to a permanent life plan.
Children's life insurance can also be obtained with just one rider up to $20,000 per child.  Cover can also be converted to lifetime coverage.
You can seek financial advice from an insurance broker to find the best policy for you and your family.
Sample Premium for Family Life Insurance – It Costs so Little!
Below is a sample computation for term life insurance for 3 members with a cover for $250,000 for both spouses and $10,000 for the child.
| | | |
| --- | --- | --- |
| Family member | Policy type | Annual Cost |
| 35-year old Male | Term life 20 years | $250.50 |
| 32-year old Female | Term Life 20 years | $158.00 |
| Minor | Child Insurance | $60.00 |
| | Total Cost Per Annum | $468.50 |
** Premiums may vary depending on insurance provider
** Premiums for smokers are more expensive than non-smokers
Family life insurance is so affordable. Obtaining cover is also so simple – request for your free life insurance quote with our short online form.
Term Life or Whole Life Insurance for Family Protection
Choosing between term life insurance and whole life insurance for the family can be very challenging.  Both types of policies offer unique pros and cons which you will need to study to make a well-informed decision.
Pros and Cons of Term Life Insurance
The cheapest type of insurance available
Can cover all members of a family individually or with term riders
Specific periods covered that adapt to your changing needs
Convertible to permanent life cover
Can be difficult to obtain after a certain age (75 and up) depending on insurer
Gets more expensive after each renewal
No cash value
Pros and Cons of Whole Life Insurance
Lifetime cover
Premiums don't increase for a lifetime
Cash value builds the longer you pay your premiums
Cash value can be borrowed to pay off a mortgage, fund education, etc.
More expensive than term life insurance
Whole life insurance will never expire for as long as premiums are paid.  Upon surrender, the insured receives the cash value of the policy.  Term life insurance allows you to decide how long you want cover – 10, 20, or 30 years.  While whole life insurance builds savings, term life only pays death benefits during period of cover.
If you are worried about affordability, you can get term life protection now and consider permanent life insurance when the time is right.
The important thing is to get insurance cover that you can afford NOW.
Ways you can save on life insurance costs
Life insurance premiums cost money but there are ways you can save.
Age: Standard life insurance is calculated based on an individual's age. It is best to apply for insurance cover early.  You even have the option to back-date your premiums so you can obtain a lower rate. You will need to pay the full amount of previous premiums but you save on future premiums.
Lifestyle: Excessive drinking and smoking will drive up your premiums. Follow a healthy lifestyle to save on insurance costs. If you smoke, quit now and request for a re-calculation of your premiums after 12 months.
Drive Safely: A poor driving record also affects your life insurance premiums. For minor driving offenses, your records are expunged after 3 years at which time you can apply for adjustment of your premiums.  Drive safely to maintain a good driving record.
Weight:  Insurance companies use risk factors including weight when computing premiums.  If your BMI is over 30, you are considered obese and it can affect your insurance rates.
You can also save on premiums if you choose to pay annual premiums rather than monthly premiums.  You can get around one-month savings from premiums each year.
With an existing term insurance, you can also reduce the face value of your policy to save on premiums if you have less debt now or have children who have become self-supporting.
Get Your Free Insurance Quote
You can save money from your insurance costs when you compare free insurance quotes from multiple insurers.
Insurance products vary in features, benefits, and most importantly, price. It is best to shop around to find the best insurance cover at the right price.
Complete our free online request form to get your insurance quote from one of our partners in Canada. Our partners are all insurers and insurance brokers.
Get the right family life insurance that you can afford now. Don't delay to ensure financial security for your family.