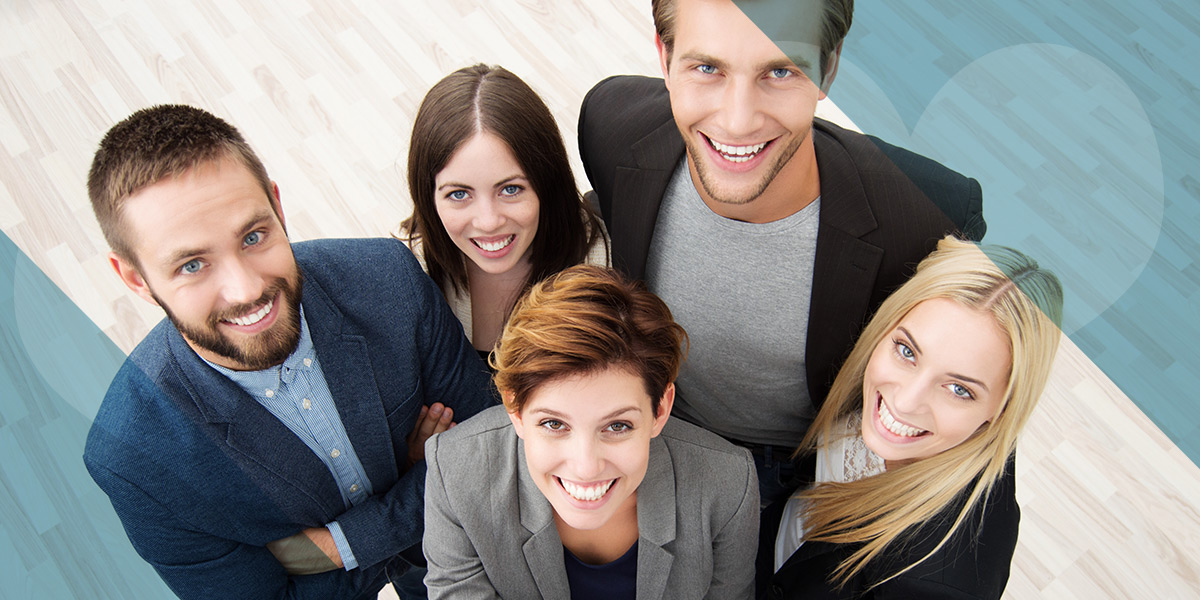 CHOOSE THE BEST GROUP INSURANCE PLAN FOR YOUR NEEDS!
According to employee surveys across all ranks, access to a group insurance plan is the most sought-after benefit in a company.
With that in mind, it is but natural that business owners seek to learn about the varoius plans available in the market. Indeed, taking out such a plan for your employees ensures the loyalty of the staff and the company's competitiveness in hiring future qualified staff.
How can employers find the best prices for group life insurance without spending too much time?
Courtesy of « Compare Insurances Online », you can access immediately a network of competent advisors. Whether you plan to buy your first group insurance plan or renew an existing one, you can count on us to help you find the best prices in the market !
With the help of these experienced professionals, your needs are accurately assessed in order to obtain an offer that is tailored to YOUR situation.
Whether you want to negotiate better terms for your coverage, obtain financial information, or a report relevant to your claims to date, our advisors will rise to the challenge and provide an effective solution to your needs.
Our partners  can compare over 20 insurers throughout Quebec.
Request a quote now for your company's group insurance plan.
FIND GROUP INSURANCE FOR YOUR ASSOCIATION
FILL OUT OUR FORM ONLINE  in just 2 minutes !
With our network of partners including many insurance brokers and insurers, you will benefit from their work to find a product for you.
One of our partners will answer you.
This service is guaranteed NO COMMITMENT and our form completely FREE !
Discover the price of Group Insurance for your company
In addition to the various types of coverage, there are also several types of plans in group insurance: the individual group plan, the one structured as a health insurance (consisting of an amount determined per employee), the third-party plan which allows more flexibility, the self-insured plan for larger companies, the pooled plan (offered by various professional associations), and others. Unless you are completely satisfied with the range of options offered to you, it is advisable that you contact an insurance professional (broker or insurer) to guarantee that you choose the solution that is most suited to your business.
Choosing the right group insurance plan to respond effectively to the needs of both the company and its employees ensure a better work climate and the loyalty of personnel. A happy workforce brings more productivity which is good for you and for them.
Do you have a small business? Find out the cost of group insurance
A small business usually has 3 to 49 employees. Even if your business is small, there is no reason to offer lower employment conditions for your staff compared to larger businesses. In fact, the options that are available to you are the same.
With a group insurance plan for a small business, you can get the following benefits:
A membership card for immediate payment;
Prevention and management of disabilities;
Medical coverage for all your employees, regardless of age;
A plan equal to that of medium and large businesses;
A guaranteed rate for 2 years;
Access to accident, life, health, salary, and dental insurance;
Travel insurance;
Access to an expense account of health costs;
The opportunity to stand out from your competitors and attract the best candidates.
Here are some group insurance plans for a medium or large company
If you are the head of an average or large business (more than 50 employees), we also have the perfect solution for your specific group insurance or disability insurance needs. The carefully selected brokers of « Compare Insurances Online» know how to search for the best offers for group insurance plans providing a human and high-performance approach. Here are some types of plans available in the group insurance market:
Flexible Plan: This plan is set-up for each employee based on credits. With this type of plan, you have access to a number of administrative and financing solutions to make it easier for you to manage. The plan, therefore, leaves it to the discretion of the employees to choose the guarantee modules based on their personal situations and needs, including, among other things, coverage for vision care or paramedical services, all at prices that vary based on their chosen guarantees.
Standard Plan: You choose the options included in the plan offered to your employees which are applicable to all.
Modular Plan: Employees choose their protection solutions according to pre-determined modules.
All plans start with health coverage. Our partner brokers of « Compare Insurances Online » make it a point to find for you the best program that will satisfy everyone in your company's group insurance needs. Whether you prefer a traditional or more flexible plan, they will live up to your expectations.
The types of protection to include in your group insurance plan
THE OPTIONS TO ADD TO GROUP INSURANCE
HEALTH CARE
INSURANCE
With group insurance, your employees benefit from paid protection both for their medical care not covered by the Quebec Health Insurance Plan and for reimbursement of drugs or medical equipment that would not be covered by the RAMQ. They will also have, among other things, access to protection from expenses related to hospitalization. An employee with a family stands to gain immensely.
AN ASSISTANCE
PROGRAM FOR
YOUR EMPLOYEES
An employee assistance program (EAP) provides a more serene and positive atmosphere in your company. In the event that an employee or his a spouse needs counseling for psychological support, this feature of your group insurance plan for your business offers them the necessary assistance and thus avoid tensions in the workplace.
VISION CARE
INSURANCE
Whether it is for a simple check-up, corrective surgery, or for corrective lenses, vision care insurance will cover all or part of the costs, depending on the option chosen.
DRUG INSURANCE
Quebec prescription drug insurance reimburses only a portion of drug expenses. This option, which is usually complementary to health care insurance, often allows a reimbursement greater than the one offered by compulsory insurance from the government of Quebec.
CRITICAL ILLNESS
INSURANCE
First of all, if one of your employees is diagnosed with a critical illness, check the list of eligible diseases with your group insurance plan. If it is on the list, it can be compensated. It is also valid in case of surgery.
BASIC LIFE
INSURANCE
Life insurance is part of a group insurance plan. The amount of coverage depends on the chosen plan. It is often calculated based on the salary of the employee (salary multipled), but it may also be a fixed rate. The size of the business plays a key role here. The bigger your workforce, the more generous an insurer's offer will be, even allowing coverage without medical exams.
OPTIONAL
INSURANCE
You can increase the coverage of your employees by adding optional insurance. This way, you can choose to increase the face amount of your group insurance plan or opt for an additional guarantee for your current coverage.
Complete our online form today and get your free quote from one of our partners (they are all insurers and insurance brokers).
LEGAL
PROTECTION
INSURANCE
This little extra, in Quebec, allows the reimbursement of notarial fees upon the death of an insured or that of his spouse. It also covers the costs in case of a disability.
LIFE INSURANCE OF
DEPENDENTS
A fixed amount, usually $5000 per child and $10,000 for the spouse, is often offered automatically.
TRAVEL INSURANCE
(CANCELLATION
INSURANCE)
Whether for business or pleasure, stay protected during your travel abroad. With this coverage, not only will your employees be able to receive medical coverage outside the province but also protection from fees related to a or repatriation of a body in the event of a death abroad. This protection is ideal for travel with peace of mind.
DISABILITY
INSURANCE
Also known as salary insurance, this option assures personnel of a company that their employer has their best interests and well-being at heart.
DENTAL INSURANCE
Whether it is for cleaning, an annual examination, an extraction, crowns, or prostheses, dental expenses are very expensive.  Since these expenses are not covered by the Quebec Health Insurance but are nonetheless essential, having dental insurance is a significant advantage for an employee.
ACCIDENTAL DEATH
OR
DISMEMBERMENT
INSURANCE
This option provides an additional amount on top of the basic life insurance in case of accidental death or loss of limbs.
INSURANCE FOR
TEMPORARY
RESIDENTS
If you have foreign employees hired for a specific period, this option is for you. It is also possible to have special coverage if you have employees who travel regularly.
How to convert your group insurance to individual insurance?
If for any reason one of your employees should quit from his job in your company, he could benefit from converting to individual insurance before his departure. This option is possible until the age of 65 years old.
Age determines the rate of premiums. It is necessary for the employee concerned to augment his level of protection or to reduce the amount of insurance when converting his group insurance to individual insurance.
As the name implies, a group insurance (group = a group of individuals) will cover employees during the period spent in a company obtaining the plan. In case of termination of employment, (departure, dismissal, retirement), an employee automatically loses coverage.
In the event of loss of coverage, an employee has only 60 days to file a request for conversion. It does not require a medical examination.
If you want to take out individual health insurance at a competitive price, without taking your age into account, request now for a quote for life insurance without a medical examination.
Get benefits from group insurance for your business!
If you would like to obtain a quote or learn more about the various aspects of group insurance, trust our partner brokers to provide you with their help.
It's very simple; just complete our free form now and receive a quote from one of our parnters shortly. They have access to over 20 insurance companies in Quebec.
Don't delay any longer. This service does not commit you to anything.