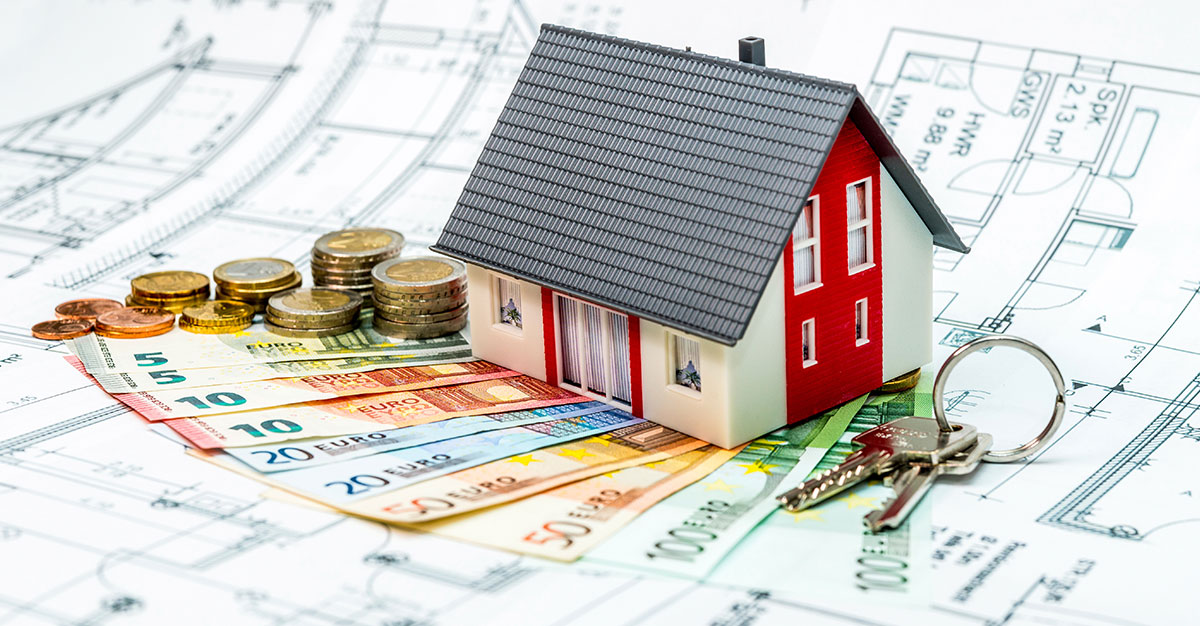 Buying a house is one of the biggest financial investments most Canadians make.  Your house is your largest equity and regardless of location, age, or quality, a home is always at risk for damage or loss from fire, flood, burglary, and other perils.
As a homeowner, it is critical that you buy home insurance in case your house ever sustains a major loss.
Unlike car insurance, there is no legal obligation to buy home insurance. However, mortgage lenders will require homeowners to buy home insurance in order to borrow money.
The big question is: How much insurance cover should you buy?
If you buy more than you need, you will be wasting money on high premiums.  If you buy less, you may not have adequate coverage to rebuild your home or replace its contents in the event of a serious loss.
It is critical to know the cost to rebuild and the value of your home's contents when you buy home insurance.
The Cost of Rebuilding and the Value of your Home's Contents
A home insurance policy will provide dwelling coverage as well as contents coverage.
Dwelling coverage will have a specific limit. You need to ensure that the amount for dwelling coverage is sufficient for you to replace your home in the event of total loss.  Every year, materials and labor costs increase so keep your dwelling coverage up to date.
Dwelling coverage does not include the value of your land so don't be surprised if dwelling coverage is less than the market value of your home.
In addition, your policy covers the contents of your home including furniture and appliances as well as your personal belongings.  To know the value of your home's contents, you must make a room to room inventory.
Speak to an Insurance Representative
Insurance brokers and some agents work with multiple insurance companies although there are insurance agents that only represent a single insurer.
As insurance professionals, they can definitely help you to determine the correct amount of coverage that you need and advise you of any discounts you may qualify for.
If your home has no adequate insurance, you could sustain a huge financial loss from damage to your home and the loss of your personal property.
Learn how home insurance can help you rebuild after a major loss.
Major Benefits of Home Insurance Coverage
Home insurance coverage can vary among insurers. Each policy will specify what perils are included. While most insurers bundle common perils in their standard coverage such as fire and burglary, other important perils such as flood, water damage, and sewer back-up may not be included.
For this reason, you must get a home insurance quote to look for the right coverage.
Major benefits of home insurance policies include:
Dwelling coverage (total or partial damage)
Personal Property
Liability (including your spouse and children 18 or below)
Additional living expenses (in case a home is damaged)
It is important that you notify your insurer if you are sharing your home with a relative or a friend or if you rent out a room or your home from time to time.
Failure to disclose such information could lead to serious problems when filing a claim.
When renewing home insurance every year, don't neglect to review your coverage and negotiate with your insurance provider.
Regularly assess the cost to rebuild your home, taking into account any upgrades you have made including to your personal property and inform your insurer.
Actual Cost Vs. Full Replacement Coverage
In determining how much home insurance to buy for your house, you also need to consider actual cost vs. full replacement coverage.
Actual cost means your insurer will reimburse you for your loss based on the actual cost at the time of loss. For instance, if your laptop and smartphone gets stolen from your car, your insurer will reimburse it for the amount minus depreciation cost and your deductible.
The difference in the cost will be your out of pocket expense.
Full replacement means the insurer will reimburse the cost of replacement, regardless of the price.
In choosing your home insurance coverage, check whether the policy is for actual cost or full replacement.
Insurance professionals recommend to buy 100% cover for your dwelling.
A professional appraiser can help you determine the replacement cost for your peace of mind.
You can choose a policy that combines both to save on premiums. You can get full replacement for dwelling coverage and actual cost for your personal property.
Full replacement is more expensive so combining both can help you save on premium costs.
Increasing insurance coverage with Endorsements
You can also tailor your insurance coverage to meet your actual needs by getting endorsements attached to your policy.
In property insurance, endorsements are additional documents that modify the policy.  It can be used for adding covered perils not included in a standard policy or to increase the limits of your policy.
Because dwelling insurance does not include all perils, even for all-risk home insurance coverage, you can choose to add endorsements for sewer back-up and other risks at an additional price.
For your contents insurance, you can also get endorsements to increase the limits for special categories such as jewelry or collectibles.
Insure your Home Beyond Basic Coverage
Basic home insurance coverage is the cheapest type of coverage you can buy. But when it comes to insuring your most valuable investment, you need to go beyond basic.
Standard coverage may meet your lender's requirements and will protect your home from risks such as fire, wind, hail, theft, and other perils.  But there are also serious risks that could put your home in jeopardy and expose you to tremendous financial losses.
Standard home insurance coverage won't cover you for sewer back-up which has become a leading cause of damage to homes in Canada.  It won't cover you for flood, water damage, and other natural disasters.
You can choose to get broad or all-risk home insurance coverage to get protection from risks not covered by standard home insurance.
The Cost of Home Insurance in Canada
The cost of home insurance in Canada varies per region.  Calculating insurance premiums are based on multiple factors, such as:
Location
Crime rate in the neighborhood
Cost to rebuild the property and value of contents
Type of property
Credit score
Amount of deductible
A deductible is the amount you are required to pay if your home is damaged and you need to file a claim.  A higher deductible helps to lower your premium significantly but if your home is damaged, you are responsible for paying for this amount.
Home insurance policies can cost from $800 in Ontario and Quebec and over $1,000 in British Columbia.
We know you want lower home insurance premiums. Learn the ways to save on home insurance.   Before you choose, shop around and request for your free home insurance quote to get the right policy for your home.
Bundle Home and Auto Insurance to Lower your Premiums
When buying home insurance, it may also be a good time to check your auto insurance. Did you know that you can get significantly lower premiums when you obtain both from one insurer?
Bundle your home and auto insurance to help you get discounts. This means you should choose a good insurance company that has an excellent reputation for both home and auto insurance products.
Here are the top 12 home insurers in Canada for you to consider. They also offer quality auto insurance coverage for your convenience.
Ready to save on home insurance?
If you are ready to try and save on home insurance, fill-out our free short online form and obtain a quote from one of our partners that are insurance brokers and insurers.
To maximize the benefits of this free quote, take 2 minutes to provide us with accurate details about your home, your current insurer, and other pertinent information. This will allow our partner insurer to provide you with the most accurate quote to help you save on premiums.
Choose the type of coverage you need as our partner insurers offer standard and comprehensive home insurance policies to suit your needs and budget.
For your home and other insurance needs, take advantage of this free insurance quote to compare prices.