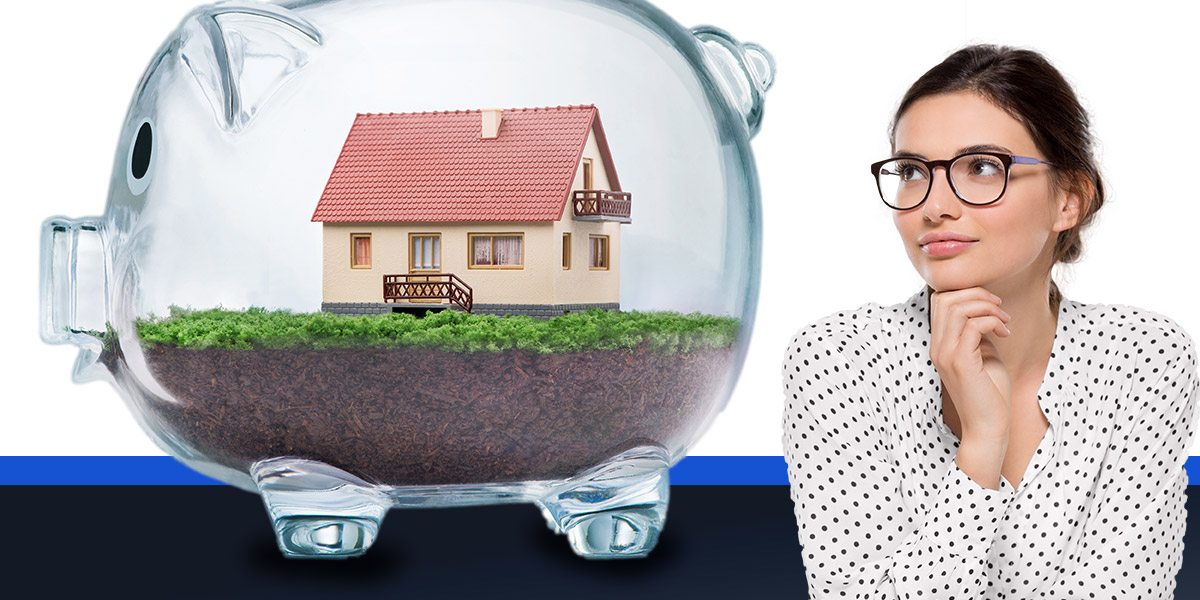 An overview of the costs related to buying a property
If this is your first time to buy a property, you will discover here the fees associated with buying a new property.
From the amount of your down payment up to school taxes, we will review all the details and leave nothing to chance.
Let's make a list of all these expenses that lie ahead.
We will also address the important issue of saving money.
Sometimes, joining the world of real estate will mean a lot of hard work.
We will provide you with several solutions in this article so that you spend less!
TAKE ADVANTAGE OF A FREE QUOTE FOR MORTGAGE LIFE INSURANCE
If you have not decided on the insurance for your property, you are in the right place!
There are two ways to protect your family from debt concerning your mortgage:
Standard life insurance (term life, permanent, or universal life insurance)
 Mortgage life insurance (individual or group mortgage life insurance)
With the assistance of one of our partners (insurance brokers or insurers), you will receive a FREE quote for your protection.
To obtain your quote, fill out the short form at the top of this page.
This professional in the field of life insurance analyzes your needs while checking the current offers in the market.
NO OBLIGATION is tied to the offer that you will receive

What to pay when you buy your house: the related fees
Each transaction of such importance differs greatly from case to case. However, some expenses can be avoided.
Aside from the notary to the Quebec welcome tax, what else awaits you?
Below is a list of the essentials.
1. The notary fees
This is essential in the purchase of a property, especially in the long term.
To avoid serious complications during the signing of the contract or the legal drafting of terms, you must be assisted by a notary.
Following the signature of an offer to purchase, these clauses cannot be modified.
Before signing an agreement, ask the notary to verify these details:
Will you be responsible for the seller's mortgage?
Will you take over the seller's debts?
Is the seller attempting to trick you in any way?
The role of the notary is essential in the transfer of the deed of the property.
Among these tasks, he ensures the validity of all documents, will be busy checking the conformity of the modes of financing, as well as the mandatory authorizations for each stage of the buying process, verifies the necessary certifications and disbursements of the various parties involved, produces all required legal documents, makes well-thought-out recommendations and protects couples venturing into this major transaction.
The fees of a notary will vary depending on the complexity of the transaction.
You can expect an average of $850 to $1,250.
If your type of building involves many people, both buyers and sellers, or if there are multiple dwellings or addresses involved, the fees will increase.
ATTENTION!
You cannot do away with a notary. He will guarantee that the purchase goes smoothly from start to finish.
The notary fees must be included in your mandatory expenses.
Since most of them display similar prices, opt for a reputable notary, with a spotless reputation, who is experienced in transactions similar to yours.
2. The fees of a chartered appraiser
You may decide to have the property re-evaluated to make sure of its fair market value.
The financial institution with whom you take out your mortgage may require a valuation.
Depending on the current real estate market, the chartered appraiser will make his own estimate.
For a condo or bungalow, the valuation may cost you less than $500.
Since the market is volatile, the valuation is reliable on average for about 6 months.
You can shop around for this specialist if one is not imposed by your bank.
If you request for at least three different bids, you can save more or less $100.
Pay less for these expenses! Don't be fooled. It is always better to compare prices from different sources in any transaction especially one as expensive as the purchase of a real estate property.
3. The fees of a building inspector
Usually following an offer to purchase, an inspection specifies the condition or state of the building.
The inspector will identify hidden defects or problems that compromise the value or integral structure of the property.
If your notary forgets to recommend the addition of an inspection as a condition, you must demand it. In the event of a discovery of a serious defect, you are entitled to refuse to continue with the transaction.
The fees of a building inspector will vary from one location to another.
The type of property also dictates the price. Compare three different companies to search for the best price.
On average, depending on your area, the average cost is from $450 to $750.
To give you an idea, the price of a building inspector for a single-family home with a basement and one floor is around $550.
If you are buying a multi-unit property, expect a higher bill.
If your research requires a real estate broker, his suggestion should be ignored.
Do your own shopping. Some individuals may offer reduced rates but they may not be certified.
For your own protection, choose a building inspector who has the necessary skills and qualifications.
4. The cost of the welcome tax
To welcome you to your new home, all municipalities in Quebec charge a property transfer tax, otherwise known as the welcome tax (nicknamed from the Welcome Minister that allowed it).
This tax is collected by the municipality following the notarial act. The buyer receives his notice of payment about 3 to 6 months after the final signing.
Unfortunately, we cannot avoid paying this tax.
When calculating the property transfer tax, you must choose the higher value between the purchase price and the municipal assessment.
It is calculated as follows:
A property in Montreal
| | |
| --- | --- |
| Percentage of the amount to be paid | Monetary segment |
| 0.5 % | From 0 to $50,000 |
| 1.0 % | $50,000 to $250,000 |
| 1.5 % | $250,000 and above |
Add the results to know the property transfer tax that you wil need to pay.
For example, for a property valued at $283,000, calculate the property transfer tax in this manner:
$50,000 $ X 0.5 % = $250.00
$200,000 X 1.0 % = $2,000.00
$33,000 $ X 1.5 % = $495.00
The property transfer tax will be $2,745.
A property on the Island of Montreal
Percentage of the amount to
be paid
Monetary segment
0.5 %

From 0 to $50,000

1.0 %

$50,000 to $250,000

1.5 %

$250,000 to $500,000

2.0 %

$500,000 and above
Add your results to know the property transfer tax to be paid in Montreal.
For example, for a property valued at $672,000 in Montreal, calculate the property transfer tax in this manner :
$50 000  X 0.5% = $250.00
$200,000 X 1.0% = $2,000,00
$250,000 X 1.5% = $3,750.00
$172,000 X 2.0% = $3,440.00
The property transfer tax to be paid will be $9,440.00.
5. The cost of school and municipal taxes
To know the real school and municipal taxes, ask the seller for the last notice of payment.
If he refuses or says he cannot find it, contact the municipality by internet or phone.
These data are public. At the time of the sale, you will be charged a prorated tax previously paid by the seller. 
At this time, you will need to pay the amount on the spot.
Prepare the funds for the payment of these expenses.
As the owner, the municipal tax bill will be sent to you within the first three months of the year.
Depending on the city where you are, a number of payment terms will be offered.
As for school taxes, the bill will arrive at the beginning of the school year, in the fall.
Prepare yourself in advance so you don't get any surprises!
There is no way to avoid these expenses since they are required in your municipality for public services.
6. The cost of the GST and the QST for a new house
If you buy a new house, whether it is a single-family home or a duplex, if the price does not exceed $450,000, you can get a 36% refund.
Visit the site of Revenu Québec  for more details.
Certain conditions apply and you need to be registered with the GST register.
If you are buying a new house, don't miss this chance to recover some of these taxes. This is so important.
You can pay less and save money this way!
7. The price of mortgage life insurance
If you do not have individual mortgage life insurance, you will need help from an insurance broker.
In the event of a disability, illness, or accidental death, do not underestimate the financial burden you will pass on to your loved ones.
Don't be loyal to any financial institution for your mortgage. Compare and shop around to save money!
The insurance broker will search for a policy of which you will be the sole owner.
Avoid group mortgage life insurance as it won't belong to you and will only benefit your financial institution.
 An individual mortgage life insurance remains less expensive than its counterpart and you can choose your beneficiaries.
By bequeathing an amount to cover your mortgage and more, you will be contributing significantly to your family's financial security.
ATTENTION!
Remember to change your beneficiaries in case of a divorce.
It would be unfortunate to leave everything to an ex-spouse.
8. The cost of condominium fees
If you buy a condo, you will need to pay condo fees every month.
Ask the seller for the details of this agreement.
Asking the right questions will save you a lot of inconvenience in the future. Sometimes, a seller may fail to disclose certain details.
You can also check with a neighbor to be assured of accurate answers.
Below are two questions to guide you:
-Are there common fees that go to major repairs of common areas? Have they set aside something for this? If not, you can expect to receive an expensive bill at any time.
-What is the current monthly maintenance fee?
9. Moving expenses
By focusing on all the financial aspects of this major transaction, many people forget to take into account their moving expenses.
Avoid the stress of moving into your new home by comparing the rates of moving companies.
In this activity, there will be different prices for different types of services offered.
 Look for moving specialists who list inclusions and exclusions in their services. It is important to have protection if something unfortunate happens to your belongings.
To familiarize yourself with this huge field, visit price comparison platforms online which specialize in searching for movers for you.
An example of a site in Quebec (offering 5 free quotes): 5 Movers Quotes
10. The cost of home insurance
Depending on the value of your old and new house, you will need to contact a home insurance broker to adjust your coverage and your premiums.
Your property and your home will be insured if something unfortunate happens, particularly during your move.
The premiums vary among financial institutions, even in terms of coverage.
In comparing offers for home insurance, you can be assured of permanent savings on a major investment.
Work with an insurance broker or a direct insurer to save money.
Statistics Canada states that the average cost of home insurance for a standard house in Canada is $695 annually.
 If you do not have home insurance, don't lose time and obtain one today.
We suggest this site in Quebec to obtain 3 free quotes: Compare Home Insurances
11. The cost of utilities
Among all these details, don't forget something very important, public utilities: electricity, cable, internet, residential telephone, gas…
Call at least two weeks in advance to ensure the change.
Below are some companies and their fees:
Hydro-Québec
A $20 service fee from Hydro Québec applies to the change of address. To avoid these fees, use their online tool on their website. If you have not been a client within the last five years, they will ask you to pay $50 to open your account. Again, you can avoid these fees by using the link above.
Gaz Métro
They do not charge for opening or closing an account. However, if your new address requires a special configuration for the distribution of gas, you may have to pay a bill.
Vidéotron
The cost of installation of Vidéotron (cable) costs $59.95. They will install up to 5 outlets and each additional outlet will cost $19.95.
Bell
The move with Bell is $55 (unless you subscribe to three services with them.)
Not to be forgotten tip
If you decide to change your telecom company, rate plan, or even mobile phone, many companies will offer you the moon just to get your account.
A good way to save on costs is to shop around for the best deal.
Attention! If you are still under contract, cancellation fees will be added to your last bill.
There are also sites that offer price comparison in the market to help you save money.
On this site, in the section for telecoms, you can get up to 3 free quotes for telecommunication packages: Compare Home Quotes
12. The cost of change in address
During the first few weeks, your mail might get lost between two addresses.
Avoid this problem by making a change in address with Canada Post.
You have the choice to forward your mail to your new address for the desired period.
The average cost of a change in address and mail redirection is from $55 to $235 with Canada Post.
How can we help you on your journey?
In conclusion, most of these fees are easy to find.
You have the option to shop for:
Life insurance,
Home insurance,
Movers,
Your notary, as well as
A chartered appraiser and
Building inspector.
It is important to get bids for each service and product to save money.
We know that buying a property constitutes the biggest expense in your life.
All the stakeholders with whom you will associate with will try to benefit from this major transaction.
By using this platform, you have a very practical tool at your disposal.
In filling out the form at the top of this page, you will receive assistance from one of our partners (all insurance brokers and insurers).
This form is FREE and the quote you receive OBLIGATION-FREE!
Check the offer that you will receive and decide if it is advantageous for you.