ONLINE PURCHASE: IS IT SMART?
Will you be looking for human contact when you shop for life insurance or other products or will you opt for the cold, but terribly effective side of online insurance?
The most important thing is to select the acquisition method that suits you best.
Bill 141 now allows consumers to purchase the insurance product they want, without the help of any advisor.
Will you lose the change if you put aside the professional who can guide and advise you? Or the information presented online will be sufficient for your needs?
Learn the advantages and the disadvantages of these 2 interesting choices.
Has online selling of life and health insurance made insurance brokers obsolete?
No.
However, to fully understand this decision of the Government, we must examine the extent of its impact for Quebecers.
A revolution in the insurance industry has been tearing the province apart since mid-July 2018.
Thus, it is no longer mandatory for a consumer to go through an intermediary to obtain an insurance product. This means that the supervision of the financial sector (especially the distribution of financial products and services) has finally been modified after 20 years.
Like any change, it caused waves.
Bill No. 141 by Finance Minister Carlos J. Leitão is alarming to many people, although this review has simplified this rigid industry.
The bill, in its article 487, deals with the fact that the mediation of a third-party is no longer necessary for a firm to provide services or products in a discipline. It is enough to have a representative in his employment who is skilled in this field.
There is no restriction regarding the products offered online, including more complex ones such as universal life insurance.
The biggest difference is that online, there is no discussion or meeting at any point in the transaction with a consultant in this area.
This sounds good, but at a certain point, will the consumer lose in exchange for lack of information or options? Can you trust all online sites without fear of being scammed?
Let's take a look at the advantages and disadvantages of the two approaches to selling insurance online:
Individual insurance: Buy online or with a broker?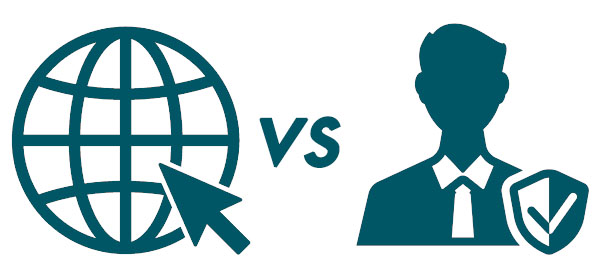 Advantages of buying insurance online

 


Advantages of buying insurance with a broker

Flexibility

Gives greater flexibility to consumers 


Well directed

With the advice of a professional, the consumer can get the product he needs.An insurance broker helps you to avoid bad choices in the market.Thus, he acts as an intermediary between you, the insured, and the insurance company when signing an insurance contract.This representative performs these tasks to find for you the best product. 


Ease

It has never been easier than now for a company to offer its products or services that you can enjoy.Now, a company only needs to have a representative among its ranks in the desired discipline for as long as this individual can practice it.In short, mediation with an actual person is no longer necessary. 

The comparison

An insurance broker must check with several insurance companies to guide his client to the most advantageous option for him.A professional avoids confusion caused by the existence of many products in the life insurance market.He will do the research for you and deliver you the fruits of his labor. 

Freedom

As a consumer, you are not required to meet or speak with an advisor at all stages of your purchase. 


Expertise

Nothing beats the expertise of an insurance broker in unravelling the many choices available.Do not waste precious hours researching what exists in the market and comparing them in vain.Your broker acts as an advisor and negotiator to better assist you. His good advice will greatly benefit you.


Wide range of products

With the introduction of Bill 141, all products are available (for now) for you, even the most demanding universal life insurance. 


Constant adjustments

In case of an emergency or if you need advice during a claim, you can count on your insurance broker at any time.In addition, your life insurance, over time, may require adjustments as a result of salary increases, for example, that improve the quality of life of your family.Protect your new assets or investments accordingly by obtaining the right insurance with a broker. 

Disadvantages of buying insurance online
Disadvantages of buying insurance with a broker

Inefficient

Lack of experience

A broker who comes straight from his training may not yet know all the tricks of the trade unlike his more experienced colleagues. 


Too complex

Option consumers keep that online sales should not contain certain types of more complex products and that these (including universal life insurance) should not be part of the package of options offered. 


Limited choices

If you are dealing with a captive broker (also called tied), he will try to sway you towards his employer.Your selections are then limited to those offered by this insurer.You need to compare various options to avoid getting trapped by a broker who only presents his own product.Your insurance expert should offer you the most interesting solutions for you and not for himself.Feel free to use a platform like ours that allows you to receive your quotes for comparison. 


You can easily get lost

It is always good to receive valuable advice.A consumer can be misled by information online and make bad decisions. 


Lack of dynamism

It all depends on the motivation of your broker.If he fights for you, negotiates the best deals and searches the most attractive offers for you, he does not fall into this category. 


Potential victim

You have to rely on insurance companies, first and foremost.Many observers are skeptical that the insurer will prioritize the needs and interests of its customers in their decisions. 

 
The AMF (Autorité du Marché Financier) may decide
The AMF could also make a stand once the bill is passed. Thus, it could intervene and designate certain being sold online like universal life insurance by adopting a regulation.
A document published by the AMF in 2015 called "The insurance offer on the Internet in Quebec" supports the importance of an insurance representative and its recommendations for the consumer because only this advisor is able to gauge the benefits to the individual customer and guide him in making a good choice.
It is not against a consumer bypassing an adviser. The consumer, however, to correctly choose the right product, must have full access to the necessary information and be warned about the consequences and dangers of a choice that is made independently.
How will Bill 141 change your life?
A well-informed and well-advised client will feel comfortable making the choice.
Why stop someone if he has been provided with all the relevant information and details for his selection?
The Chambre de l'Assurance de Dommages believes that a decline is occurring because of PL-141 and its provisions for industry specialists as it has over the years been improving significantly.
The ChAD believes that professionalism requires competence, strictness, and earnest. Bill 141 offers a lot of flexibility and it will fits well with the times.
Of course, no one can predict what consumers will be like in 5 years or how technology will have made advances in the future.
Check more information from the CHAD regarding the impact of Bill 141 on industry professionals and consumers.
Shop for your personal insurance!
Shop for life insurance with ease thanks to our partners, insurance brokers who will compare prices for you with various fonts!
If you are a homeowner you can also check out mortgage life insurance for your needs.
An experienced insurance broker can help you find and choose the right life insurance in Quebec.
A quote that matches your needs will be sent to you for free!

Just fill out the online request form on this page in less than 2 minutes!