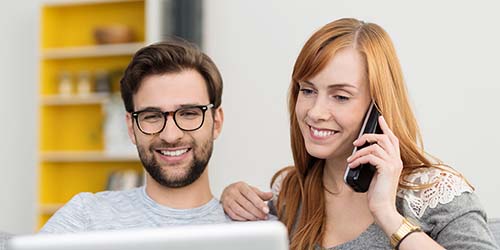 WILL YOU SAVE MONEY IF YOU SWITCH YOUR TEMPORARY LIFE INSURANCE TO PERMANENT LIFE INSURANCE?
When it comes to choosing life insurance here in the province of Quebec, it's interesting to note the level of anxiety couples have about term life insurance!
This life insurance is offered at affordable premiums, so much so that obtaining large amounts of insurance coverage is relatively easy. In addition, subscribing to term life insurance, tailored to your family's needs, can save a lot because it combines both protection from some of your debts and loans and mortgage insurance.
Let's take a couple's example and compare the 30-year costs for term life and permanent life insurance:
Female, non-smoker, in very good health, 35 years old.
Male, non-smoker, in very good health, 35 years old.
Desired insurance amount: $ 100,000 (combined).
Rates associated with premiums:
Permanent life insurance: $87 monthly or $1044 for the entire year for a couple.
Term Life Insurance: $25 monthly or $300 for a couple for the whole year.
It is very clear that huge savings are realized by opting for term life insurance. On the other hand, very few people realize that after 10 years, this type of insurance will have to be renewed.
The renewal of the insurance coverage will require a review of your health condition. Your premiums will automatically increase simply by being 10 years older (you will be 45 years old). Even with excellent health, you are most likely to see your premiums double.
Permanent life insurance takes on a new importance at this time and becomes more interesting as an insurance option.
Throughout this section, you will learn about the benefits and drawbacks of these two life insurance types and take advantage of tips to help you save money through portability.
If you already know all the basics of permanent life insurance or term life insurance and prefer to take action immediately, click on the link on this page to get your free quote!
Our broker partners can compare over 20 insurers in Quebec. Request a FREE QUOTE today for your permanent life insurance.
What is the best choice for you: Permanent life insurance or Term life insurance?
The wide range of products offered in the field of life insurance can certainly confuse many consumers, especially those that don't know much about insurance. Will you choose permanent life insurance or term life insurance? What is the best solution for you?
Fortunately, you will see here a list of all available options in the market so that you can choose the best product and coverage that is perfect for your needs.
Most things in life are unpredictable; the good and the bad. Meticulously review your risks and take the necessary preparations get some peace of mind and plan for your financial security as well as your family's future.
Let's define what is term life insurance.
Certainly the most inexpensive form of life insurance, term life insurance is an ideal solution to start insurance coverage. Your premium depends on the term of coverage (possibility of 1.5, 10, 25, 50 and even 100 years!). It then takes into account your status as a smoker or non-smoker, your gender and your age. These factors will quickly determine the amount of your premiums.
However, you must also consider the financial ramifications of temporary life insurance. Each renewal of your insurance coverage requires an evaluation of your physical and medical condition at the end of each term. Your increasing age as well as underlying health issues will definitely drive up the rate of your premiums. At this stage, permanent life insurance becomes a more attractive and economical option.
Nevertheless, the need to switch from temporary to permanent life insurance often becomes apparent at the end of your term life insurance. Its purpose is achieved if you only use it for a certain time as additional protection during a period of significant risk such as debt that decreases over time.
You'll find many options for term life insurance, including:
1 year term life insurance
3 year term life insurance
5 year term life insurance
10 year term life insurance
25-year term life insurance
30-year term life insurance
35-year term life insurance
50-year term life insurance
100 year term life insurance
However, if you want to get a quick quote for your permanent life insurance or term life insurance, please fill-out our online request form below.
THE BENEFITS OF TEMPORARY LIFE INSURANCE

This type of life insurance will be light on your budget!

You will obtain, at low rates, effective insurance coverage at very affordable premiums.

The desire to purchase term life insurance often arises from a risk to be managed such as the security of loved ones in case of a sudden death, disability, or loss of income.

Term life insurance provides you with protection for a limited time (usually a time of heavy risks to your finances).

It covers risks during a pre-determined period in the short term and can be renewed or not, depending on your choice.

ECONOMICAL

PREMIUMS AT VERY LOW PRICES

Term life insurance has the lowest premiums in the market.

For a paltry $15 per month, several policies in term life insurance have emerged in the market that provide, after death, a sum around $10,000!

Shop well!

SUFFICIENT
COVERAGE

SUITABLE COVERAGE

Do you want a cover that would take care of all your debts if you had to die?

You want more than all the financial security of your family left behind or leave them a generous surplus in money?

Your requirements and needs will be met by a term life insurance that provides you with a sum insured to meet your expectations (that they are half a million or ten thousand dollars!).

ADD OPTIONS

POSSIBLE APPENDICES OF ADDITIONAL PROTECTIONS

Insurance companies are constantly reinventing themselves and providing health protections that improve term life insurance.

These additions enhance the value of existing available coverage based on your changing needs.

CONVERTIBLE

CONVERTIBLE TO PERMANENT LIFE INSURANCE

Term life insurance can become permanent life insurance at your request at the end of your term. This saves you from adding to your premiums and you can benefit from the convenience of this new type of insurance.

DISADVANTAGES OF TEMPORARY LIFE INSURANCE

PREMIUMS THAT RISE CONSTANTLY

PREMIUMS THAT RISE WITH RENEWAL

At the end of your contract, your file is evaluated (related to your age) and your premium will experience an inevitable increase. Here is an example (note that this does represent the current market): a young man (25 years) pays $24 monthly for term life insurance worth $100,000. He renews his 10-year coverage for 35 years instead. He must now pay $31.50 in premiums to maintain his current coverage. Consider permanent life insurance if you prefer a fixed cost

IT CAN BE REVOKED.

IT IS POSSIBLE TO LOSE IT!

A very large number of insurers do not renew term life insurance beyond the age of 85.

It disappears (term life insurance) forever if you forget to renew it or if your health condition no longer allows you to enjoy this protection.

IT OFFERS NOTHING MORE THAN PROTECTION.

NO SAVINGS COMPONENT AVAILABLE OR EVEN CASH VALUE

Only its protection of the moment is guaranteed to you, the product does not allow you any possibility of saving money.

Do not expect any investment in term life insurance; these policies simply do not have this opportunity that are found elsewhere.

Universal life insurance, meanwhile, will give you these investment benefits.

PERIODIC MEDICAL EXAMS

THE MEDICAL TEST WILL LOWER YOUR INSURABILITY

A form to fill-out (testing your health condition) will be submitted to you each time you renewal coverage and will test your insurability again.

This medical examination detects some deterioration in your medical condition and defines your new costs.

These generally increase and a denial of coverage is also possible. You can avoid this by choosing permanent life insurance.
WHO SHOULD GET TEMPORARY LIFE INSURANCE?
Many people believe that the purchase of term life insurance is to enhance their current coverage. The factors that usually lead to this choice are:
To maintaining the lifestyle of your loved ones after your demise.

To prepare money for childrens' education after your death.

To ensure payment of debts, including a mortgage.

The protection of assets.

The repayment of all your debt (credit card, student loan …).

The gift of life insurance to your offspring in case of unexpected death

Protection against losses due to an accident that could disrupt your business.
Many specialists (including financial planners) are turning to term life insurance for 10 or 20 years. They advocate this economical product for its pre-determined duration and the chance to review insurance needs. Of course, your life insurance requirements undergo a reduction at some point in your life. Once the mortgage is paid, investments and income such as TFSAs and RRSPs filled in, and children are out of the home, no financial obligations will hinder you.
Consider the transition (without verification of your health) from term life insurance to permanent life insurance (transformation). Modify your life insurance accordingly and get rid of renewal worries.
Next, let's find Permanent Life Insurance
Permanent life insurance is a lifetime protection that you will never lose.  It protects all of your assets and secures your loved ones financially in the event of your death.
Permanent life insurance is a shield that protects you from the time of subscription to the agreement, until your demise. (several policies specify an age where payments stop). Throughout your life, you will only know fixed premiums. Initially, however, your premiums will exceed the cost of term life insurance.
Permanent life insurance becomes a valuable ally due to its supplements, clauses and options that are added to it.
What is the difference between permanent life insurance and universal life insurance?
There are two choices for permanent life insurance: universal life insurance or whole life insurance.
If you are looking to take advantage of your life insurance investment opportunity, go for universal life insurance. You will build up (with variable premiums (over time) or fixed premiums) a portfolio that you can use as an investment.
Need more information ? Get in touch with one of our life insurance insurers or life insurance brokers.
THE BENEFITS OF PERMANENT LIFE INSURANCE

Permanent life insurance guarantees you an irrevocable and perpetual insurance protection for life. You will never renew it, in contrast with term life insurance.

Premiums become cheaper over time, a very clear advantage. When you sign up for coverage, these fixed premiums will seem expensive compared to term life insurance, but as you get older, these rates will get cheaper in the long run.

A non-taxable benefit will be given to your estate at the time of your death in order to take care of assigning a proper legacy to your beneficiaries, pay your debts, cover funeral expenses, or make a donation on your behalf to an organization of your choice.

Usually, a cash surrender value is added to a permanent life insurance plan. This feature allows you to obtain a fraction or all of the current value of your contract at a chosen time. The contract terminates immediately upon the total withdrawal of your funds.

HIGH AMOUNT OF COVERAGE

HIGH INSURED AMOUNTS

Permanent life insurance provides a large amount of insurance.

As this type of insurance provides broad coverage, the sustainability of your projects is assured in addition to the security of your investments. Your family will have nothing to fear financially in the event of your death.

Charities could also benefit from a legacy if you feel philanthropic.

If you have a dependent who has lost autonomy, permanent life insurance will take care of him upon your death.

FIXED PREMIUMS

FIXED PREMIUMS FOREVER

You will never pay more than what you expect with permanent life insurance. When signing the agreement, the cost of your premiums will be fixed forever.

No unpleasant surprises during the contract. Everything is determined in advance.

Term life insurance will constantly increase your rates every time you renew.

TAX ADVANTAGE

IT MAKES YOU SAVE ON TAX

This product provides tax savings.

Assuming the maximum contribution to your RRSPs and TFSAs, include additional funds into your permanent life insurance and save from your taxes!

Discuss this with a life insurance broker to initiate the process.

AVOID MEDICAL EXAMS

PERIODIC MEDICAL TESTS NOT REQUIRED

You can avoid frequent medical exams with permanent life insurance. You only take the exam in the beginning Do not take the exam until the beginning and never again afterwards.

No renewal needed and the level of protection remains the same, despite your age or changing health status. Don't forget that in time, your health declines.

As a rule, life insurance companies take advantage of increasing age and deteriorating health to re-assess and increase premiums. With permanent life insurance, you can save money.

NO DEBTS UNPAID

YOUR ASSETS ARE PROTECTED

Permanent life insurance protects your finances by providing for funeral expenses and debts.

Permanent Life Insurance not only honors your outstanding debts and funeral expenses, but its proceeds can also bedivided among the beneficiaries of your estate as their inheritance.

As a homeowner, you are assured that it will pass on to your loved ones despite an unpaid mortgage.

Do you own one or more income properties or a company where you have invested capital?

Secure the transfer of these valuable investments to your estate by allocating a reasonable amount to insurance protection.

DISADVANTAGES OF PERMANENT LIFE INSURANCE

DO YOU NEED THAT MUCH MONEY?

COVER THAT EXCEEDS YOUR REAL NEEDS

The primary advantage from acquiring permanent life insurance is protection of your assets from financial obligations.

If you have already managed to set aside an adequate amount of money to bequeath to your heirs and can pay off your debts or if your family has wealth, permanent life insurance can only undermine the state of your finances and constitute an additional burden.

MORE EXPENSIVE

HIGHER PREMIUMS

Many life insurance products cost less than permanent life insurance.

Stop searching for insurance that is cheaper than term life insurance. After several years, when the time comes to renew a term life insurance, the cost of premiums could subsequently be equal.
DISCOVER THE CASH SURRENDER VALUE OF PERMANENT LIFE INSURANCE
What does the term "surrender value" mean in permanent life insurance? This simply refers to the cash value of a policy in the event that a policy owner decides to terminate coverage.
You can recover, several years after having paid out premiums, the amount appearing on your annual statement of your permanent life insurance policy. This value can be substantial (sometimes in thousands of dollars).
UNDERSTAND THE VALUE OF POLICY REDEMPTION FOR YOU AND YOUR FINANCES
This amout is a back-up for the insurer if you have financial problems. The life insurance company will give you this amount (be careful, it is taxable) without much fuss. Indeed, it can save your entire coverage! Consider your options before canceling your permanent life insurance policy.
You can get a lump sum, but at the cost of completely eliminating your insurance protection.
When is it advisable to redeem a permanent life insurance policy?Quand vos finances traversent une période pénible qui impose (suite à un emprunt personnel refusé) un redressement à l'aide de liquidité instantanée.
When your going through a difficult period financially and you need instant liquidity (following a personal loan refused)

If you have another insurance coverage that is adequate for your needs and eliminates the need for this insurance amount

When you become aware that your permanent life insurance and coverage is now optional (your savings offset it).
Find out what are the prices for term life insurance and permanent life insurance
To obtain an approximation of the rates found in term life insurance premiums in the Quebec Province, let us study a comparative table presenting some examples (do not consider these as official figures but rather comparative data in 2018 from our online calcutation tools).
Compare more than 20 life insurance companies and fill-out the form below to find out their respective competitive rates!
How do you calculate the cost of permanent life insurance or term life insurance?
Example number 1:
Subscribe to a term life insurance when you are 35, smoke and you feel healthy (example of a man). Your premiums are monthly and for 10 years at $ 24.90.
When you reach 45 years of age, your premiums go up to at least $ 61.15 and a medical examination is required.
If still in good health, you can continue your term life insurance.
At 55 years of age, your premium will increase to $ 40.85 following renewal.
Just before you turn 65, you will concede that changing your policy (permanent life insurance) would greatly benefit you and help you to avoid a medical exam.
Total premiums paid in 30 years amount to $27,228.
Permanent life insurance with the commuted value would have cost you $78.75 each month for 30 years and $28,350 for an entire amount.
In this example, you were lucky, health-wise, so you have saved $1,000 spread over 30 years. Term life insurance was a wise choice.
Example number 2:
You are in favor of a term life insurance when you are 30, you do not smoke, you are a woman and you are in very good health. You pay monthly, for a sum insured of $ 100,000, $10.75 monthly.
You pay off this insurance for forty years (you are then 70 years old) and you remain happily healthy. The total amount of insurance paid is $15,216. The potential development of a dreaded disease causes the termination of your coverage.
If you had opted for permanent life insurance instead of term life insurance, the entire cost for the same period would have been $14,280 and you would have maintained a fixed rate until the end of your days..
Permanent life insurance is the best option here because you save money every day after you turn 70 and earn the cash value, a bonus to your protection.
Example number 3:
You represent a man at age 45 who is a non-smoker. You opt for term life insurance while your brother (your twin) gets permanent life insurance.
You start off well, paying $25.45 a month while he pays $84.85 a month.
Seven years later, you develop cancer. Your brother also suffers from the same bad luck and develops it, too. Two years of treatment fortunately result in a cancer-free condition.
On the day of your contract renewal, your insurer denies coverage while your twin brother continues to enjoy insurance coverage.
Unfortunately, you find yourself unable to find insurance coverage, which negatively impacts your future as well as your family's financial security.
Your brother will continue to have a secure future for life!